Baguio City has been regarded as the Summer Capital of the Philippines. Baguio City is also considered a prime tourist destination in the Philippines, for good reasons. Baguio City offers a lot of tourist spots, activities, and vibes that leave tourists and even residents wanting more.
Of course, let's not forget the cold weather Baguio City can offer. After all, Baguio City is located in the mountains of the Cordilleras where the temperature is colder than any other part of the Philippines.
So, if you are planning to have your next destination in the City of Pines, here is a list of 26 Baguio City tourist spots that you can use as a bucket list on your next visit. You may use the table of contents below for easier navigation.





Baguio City Tourist Spots and Attractions
1. Lion's Head
If you are passing through Kennon Road, Lion's Head is one of the first indications that you are almost in Baguio City. The Lion's Head is a monument project by the Baguio Lions Club. It is a structure made out of limestone and was unveiled to the public in 1972.
2. Kennon Road View deck
After visiting the Lion's Head, proceed going up and you will see the Kennon Road View deck. Here, you will be greeted with a bird's eye view of Kennon Road, and from this vantage point, you will see why this road is also known as the zig-zag road.

3. Burnham Park
Burnham Park is named after the architect of Baguio, Daniel Burnham. Considered as Baguio City's most popular park, it offers varying sights and activities for all walks of life. Some of which include:
Boating
Biking
Skating
Walking
4. Rose Garden
The Rose Garden is a part of Burnham Park, but is worthy to be considered a tourist spot on its own because of its features. You and your family can relax and lounge in this beautiful park adorned with different colors of roses during the blooming season.
5. Mines View Park
Mines View Park offers more than just a place to buy souvenirs. For those who love watching the sunrise, the Mines View Park Observation Deck is a perfect vantage point to watch the sunrise over the mountains of the Cordillera.
6. Good Shepherd Convent
Bring home some local delicacies with you to enjoy with your loved ones while helping achieve the convent's advocacy, which is to sustain the education of underprivileged students. This is where you can purchase the famous Good Shepherd Ube Jam, Strawberry Jam, Alfajor, Snowballs, and other delicacies.
7. Wright Park
Named after the Philippines' then Governor-General Luke E. Wright, this park is famous for horseback riding activities. Divided into two parts; the lower part is where you can go for horseback riding while the upper part is where you can find the postcard-worthy Pool of Pines Reflection Pool, which is a famous spot for early jogging and promenade among the trees.
8. The Mansion
The Mansion is known as the home of the Philippine President whenever he or she pays a visit to Baguio City. You can get a glimpse of the mansion's facade and take photos with your friends and families.
9. Camp John Hay
This former American base is home to several attractions:
Historical Core
Cemetery of Negativism
Bell Amphitheater
Bell House
Picnic Area
Butterfly Sanctuary
Ayala Technohub and Mile Hi
Related: A Dive into the History of Camp John Hay
Do you find this content useful?

10. Forest Bathing Trail
Reconnect with nature and recharge your body in Baguio City through Camp John Hay's Forest Bathing Trail. Also known as the Yellow Trail, the trek will rejuvenate your body and mind.
11. Philippine Military Academy (PMA)
The Philippine Military Academy or PMA is the training ground for the country's soldiers and military officers. Some of the areas inside the academy have recently been opened for the public to appreciate.
Related: How to schedule a visit at the Philippine Military Academy
12. Maryknoll Ecological Sanctuary
Get a glimpse of the Earth millions of years ago. Learn to appreciate Mother Earth as you enjoy a trek around the Maryknoll Ecological Sanctuary in Baguio City.
13. St. Francis Xavier Seminary bamboo Educational Demo Farm
Of course one cannot compare the Bamboo forest of Kyoto in Japan, however, the Bamboo Sanctuary gives you the feeling as if you are in Japan.
The St. Francis Xavier Bamboo Eco-Park is a nature park located inside the St. Francis Xavier Seminary at Liteng, Pacdal. It was built in 2012 by the Philippine Bamboo Foundation, Inc. (PBFI) under a Memorandum of Agreement with the Diocese of Baguio City. It is meant to be an experimental learning center that aims to study the different bamboo species and find out how and where bamboos can be propagated in Benguet to control soil erosion. Training, seminars, and TESDA certifications are also being conducted here for locals to learn more about the livelihood opportunities revolving around bamboo.
Enjoy a walk around the Bamboo Sanctuary, breathe in the fresh air, and listen to the ambient sound of birds singing and bamboo leaves as it sways with the blowing of the wind.





14. Pine Trees of the World
Walk among the pine trees at the Pine Trees of the World in Baguio City. Bounded by Baguio City's busy streets, the Pine Trees of the world is truly a place of respite away from the hustle and bustle of Baguio City.
15. Botanical Garden
From colorful dahlias and sunflower gardens, the New Baguio Botanical Garden showcases several attractions that everyone will enjoy. Explore the Japanese Tunnel and know more about the sister cities of Baguio.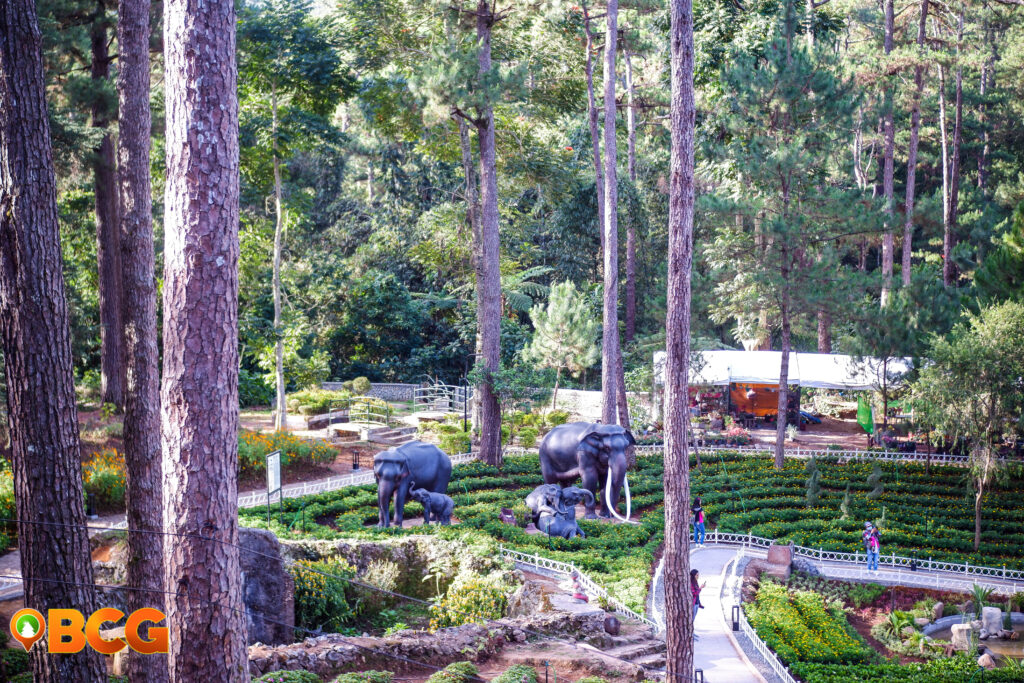 Related: Botanical Garden Travel Guide





16. Lourdes Grotto
Famous for its stairs that leads up to the grotto, the Lourdes Grotto is both a physically challenging and spiritually rewarding experience. If you have been to the Lourdes Grotto, have you tried counting all the steps? Do you know how many steps there are at the Baguio City Lourdes Grotto stairs?





17. Mirador Heritage and Eco Park
The Mirador Heritage and Eco Park in Baguio City lets you enjoy nature at its own bamboo sanctuary and other features. Tip: Once you have reached the Mirador Peace Memorial at the top, it is a great vantage point for watching the colorful sunset.
18. Heritage Hill and Nature Park (Diplomat Hotel)
The Heritage Hill and Nature Park or popularly known as the Diplomat Hotel is known for its dark past. The Diplomat Hotel was once said to be haunted because of its grim history. Today, the Diplomat Hotel, now called Heritage Hill and Nature Park is home to Baguio City's artists and creatives where several creative festivals were held.
19. Tam-awan Village
The Tam-awan village in Baguio City is home to local artists. It serves as a venue for art and cultural activities for the purpose of enhancing the public's appreciation of culture and beauty.
20. Igorot Stone Kingdom
The Igorot Stone Kingdom has been a popular tourist attraction for years. This impressive site features a series of intricate stonework structures that showcase the unique architectural style and cultural heritage of the Igorot people.
Address: 362 Longlong Road, Pinsao Proper Brgy., Baguio City
Related: Igorot Stone Kingdom Reopens its doors to visitors
21. Sam's Agritourism Park
Sam's Agritourism Park is located at KM.5 Asin Road Baguio City. The steep climb going to the park is all worth it as you explore the different sculptures carved in stones as well as the beautiful view when you reach the topmost part of the park.
22. Session Road
A busy Central Business District on a weekday, it turns into a central hub for residents and tourists to enjoy various activities on Sundays.
After visiting the parks and tourist spots, we know what you'll look for next is a place where you can buy pasalubong for your friends and relatives or something that will make you remember your trip to the beautiful City of Pines.
23. Night Market
Trade and commerce begin at the Night Market as night falls in Baguio City. Here, you can buy clothes at an affordable price. Get your negotiating skills ready as you haggle down the price of a piece of clothing you really want.
24. Easter Weaving
Weaving, is one of the most traditional ways of making clothes in the Cordillera. At Easter Weaving in Baguio City, you will see this traditional way of making clothes in action. Of course, it is also here where you can buy clothes and souvenirs made from weaved materials.
25. Baguio Public Market
A trip to Baguio City is not complete without a visit at the Baguio Public Market. Here, you can buy highland vegetables and local delicacies which you can bring home to enjoy with your family.
26. Baguio Orchidarium
A haven for those who love planting or those growing and tending their personal garden. Here, you can see and buy anything you need to start a garden from plant seedlings to pots and fertilizers.
27. Baguio Museum
Immerse yourself into the rich history and culture of Baguio City and the Philippines by visiting the Baguio Museum. Locate at Governor Pack Road, you will see various artifacts and showcased art by local artists.

Baguio City Tourist Spots Bucket List
Now that you have a list of the Baguio City tourist spots, you can now properly plan your next visit to Baguio so you can maximize visiting these different attractions. When visiting the destinations, make sure to preserve its beauty by cleaning as you go and respecting the place so that other people may be given the chance to enjoy it.
To watch our virtual tours visiting each of the Baguio City tourist spots, subscribe to our YouTube channel.
How do you feel about this?