The Botanical Garden in Baguio City is now open for residents and tourists. If you are planning to visit the City of Pines anytime soon, make sure to add this botanical park to your itinerary.
Botanical Garden Baguio City
In the past, the Botanical Garden was always one of our favorite Baguio tourist spots to go on walks. During the height of the pandemic, Baguio residents, including us, have realized how lucky we are to have nature parks and open spaces where we can get a breath of fresh air. Add the fact that taking nature walks is proven to be good for the health, as prescribed by doctors. It served as our small reprieve during tough times. In May 2021, the park was closed until further notice to give way to the long-overdue rehabilitation of the park. Finally, after ten long months, it has finally reopened its doors to visitors, simultaneous with the comeback of the Panagbenga 2022 festival celebration.
New Baguio Botanical Garden
As a resident of Baguio, you might tell yourself, "I've been to Botanical Garden countless times in the past. What makes the new renovation special?" The new Baguio Botanical Garden showcases new attractions and beautified existing ones, making the landmark worthy of its name- a tribute to flowers and plants of different varieties. Even if you have been to the park numerous times, going to the new Baguio botanical garden is like going to a new park for the first time.
The new botanical garden is reminiscent of why Baguio City celebrates the flower festival. As the city recovers from the pandemic that has been crippling the whole world for two years, we are but flowers blooming into a new season learning to live in the new normal.
Another thing we appreciate in the revamp is that not only was the park made to look aesthetically pleasing, the design was also functional. Ramps were strategically placed in the park, making the attractions more accessible and PWD-friendly.
Below are just some of the attractions you will see at the Baguio Botanical Garden, Baguio City:
PMSEA Botanic Park
Fil-Chinese Friendship Park
Korea Garden (Taebaek Park
Pagoda or Viewdeck
City of Vaughan (Canada) Park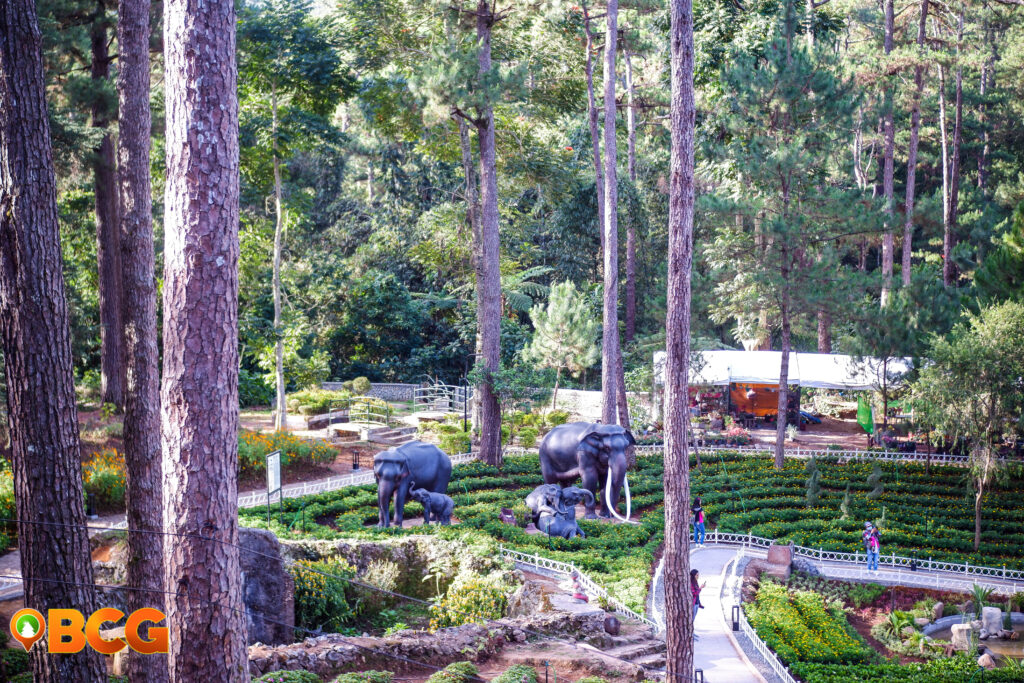 Yellow Margeurite Garden
Cactus & Succulents
Souvenir Shops
Comfort Rooms
How to get to Baguio Botanical Garden
Baguio Botanical Garden is located along Leonard Wood Road, just before Pacdal Circle. It can be easily navigated by using Google Maps or Waze.
If you plan to ride a jeepney going there, you can take the Pacdal-Liteng Jeepney (terminal is located at Lakandula St.) and ask to be dropped at Botanical Garden. Regular jeepney fare costs Php10.00.
Botanical Garden Entrance Fee 2022
The entrance fee at the botanical park for adults is Php10.00 while the entrance fee for kids is Php5.00.
Botanical Park Operating Hours
The botanical garden is open from 7:00 AM to 6:00 PM daily. 
Parking Rates
| Type of Vehicle | First 2 Hours (PHP) | Additional Hour/ Fraction Thereof (PHP) |
| --- | --- | --- |
| Light vehicle/ Private Vehicles | 35.00 | 10.00 |
| Tourist/ Excursion Buses/ Vans | 40.00 | 15.00 |
| Motorcycle | 10.00 | 5.00 |
Travel Tips:
Wear comfortable clothes and shoes. Since the park is huge, there will be a LOT of walking. Make sure to wear shoes that are suitable for long walks for your comfort.
Pack snacks and water. Stay hydrated, fam.
Bring an umbrella.
We highly suggest visiting the park on a weekday or at 7:00 AM when the park has just opened. This is so you can avoid crowds, get some Vitamin D from Mr. Sun, and of course, pose all you want until you achieve those IG-worthy photos.
Practice minimum health standards by maintaining social distance and wearing your face masks at all times while inside the park.
Help maintain the park's beauty. This means following the signs to ensure the park retains its charm. Avoid picking flowers, littering, and vandalism.
Breathe. While the park's new look might urge you to take photos here and there, don't forget to look up the screen every once in a while and appreciate the park by taking a moment to breathe and enjoy the present, be it alone or with a company.
Baguio Botanical Garden 2022 Virtual Walk
If you're not able to travel to Baguio City and visit the Botanical garden yet, no worries because we got you! Here's a virtual tour of the Baguio garden:
How do you feel about this?