Entertainment
Movies
Wes Anderson has an obsessive, systematic repetition of stylistic choices. He's perfect for this TikTok meme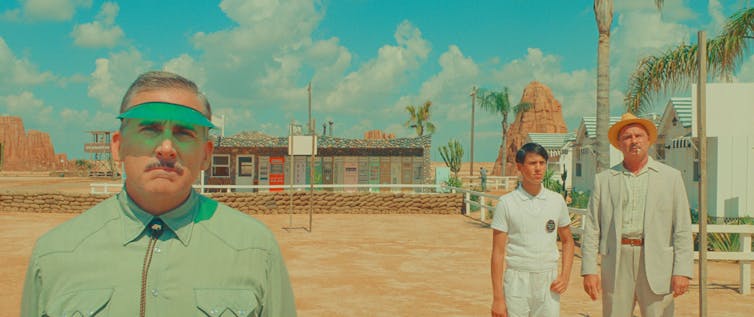 Alex Munt, University of Technology Sydney
Iconoclastic film director Wes Anderson says of his films:
I always feel like any character from one of my movies could walk into another one of the movies and be at home there.

With the premiere of Asteroid City at the 2023 Cannes Film Festival next week, fans have been doing just that – walking themselves into faux Anderson movies.
TikTokers are creatively "Wes-Andersonifying" their everyday lives: at lunch, at the hotel pool or at the bookstore. The TikToks are all set to a score by Alexandre Desplat from The French Dispatch (2021).
It's fun to see Anderson's film style rolled out across diverse cultural and geographic borders. This syncs with the filmmaker's affinity for global cinema. He draws inspiration from the films of Yasujirō Ozu, Satyajit Ray, Jean Renoir, Jean-Luc Godard, Francois Truffaut and Jacques Rivette – to name just a few.






For Tiktok's Anderson fans, here's a "How To" by @andyyongfilms which shows a recipe for the film style: a title card (Futura font, with typewriter effect), symmetrical compositions, bright coloured or pastel outfits, retro props, an overhead shot plus a "whip-pan" camera movement. A few of the TikToks are highly polished, clearly from creators with a film education, such as The British Dispatch.
Reimagining a film style
The Anderson-inspired TikToks are playful ruminations on the question of "film style" today. Stanley Kubrick once said a film director is a "taste machine", which Anderson revels in to excess.






Symmetry within the frame is perhaps the most obvious element of the Anderson film style and one easy to replicate in the TikToks. With an obsessive devotion to staging scenes in symmetry, Anderson breaks the "rule of thirds" for visual composition. In contrast, he pins his actors dead centre as shown in this video essay by Kogonada.
Working with his regular cinematographer Robert Yeoman, Anderson uses planar compositions to create graphic cinema which shares an affinity with illustration and painting.
His "planar" approach to staging means the camera remains perpendicular to the subject, which the rapid whip-pan camera movements maintain within a shot. Anderson stages his actors across the frame – like garments on a clothesline – and in depth. You can see this in the image from Asteroid City above.
This staging style is a departure from the mainstream visual style of film and television today which situates the camera at oblique angles to the actors, enhancing the layers of foreground, midground and background – closer to the way we see and experience the world.

In contrast, Anderson's approach calls out the artificiality of cinema. He recalls historical film styles from early cinema theatricality to the pop-art cinema of the late 1960s, for example in the films of the late Jean-Luc Godard.
Colour is another aspect of Wes Anderson's visual style, which spills across the TikToks. Like a handful of directors today, he still shoots on film (16mm and 35mm) but now uses digital tools to grade the colour of the images. The Euro-pastels from The Grand Budapest Hotel resurface in American shades for Asteroid City.
Where to next?
As a system in and of itself, the film style of Anderson is ripe for TikTok due to its boldness, clarity and repetition of techniques.
Film style operates at the level of the shot. We might recall signature shots such as Hitchcock's "vertigo effect" (where the camera lens zooms into a subject as the camera moves away), Scorsese's tracking shots, Nolan's close-up shots of hands or Tarantino's point-of-view shots from inside a car boot.






But these are isolated shots rather than Anderson's obsessive, systematic repetition of stylistic choices within each film and across his oeuvre. On TikTok some shots are easier to craft that others, as @astonmartinf1 details in his analysis of the Wes Anderson Trend, noting the omission of camera movement in many of the videos which is a defining aspect of his film style proper.
In filmmaking, moving the camera is often expensive, separating the amateur from the professional. Anderson's tracking shots are only feasible within an industrial filmmaking process. While the TikToks may be highly creative, they are made with slim resources a world away from the film budgets of Anderson, who enjoys Medici-like support from US billionaire Steven Rales.






Saying this, there are other aspects of the Wes Anderson style the TikToks could hijack on a budget, such as playfulness with the image aspect ratio and slow-motion photography. Aspect ratio is the relationship between the width and height of an image. TikTok is 9:16, an inverted ratio to our widescreen TVs.
As part of his film style, Anderson uses the Classical Hollywood ratio of 4:3 seen in The French Dispatch. Both ratios are designed for people (all those selfies) over landscapes, so creative opportunities here for TikTokers.
Anderson is also a fan of slow-motion to accentuate key dramatic moments in his films. Today's smartphones shoot "slo-mo" well, and using TikTok and other basic editing apps the user can apply speed effects to their footage.
And as generative AI representations of film style wash across social media there's a new set of questions altogether. Here's Harry Potter as directed by Wes Anderson created by @panoramachannel with AI software Midjourney. But that's another conversation.
Alex Munt, Associate Professor, Media Arts & Production, University of Technology Sydney
This article is republished from The Conversation under a Creative Commons license. Read the original article.




How do you feel about this?